The City is traditionally a bastion of steak & fish restaurants
Neat Burger is meeting consumer demand as the only plant-based chain in the City
Openings compliment Neat's delivery and dark kitchen service already available in the City
Customers in the City ordered 50% more signature Neat Burgers in the 2021 compared to prior year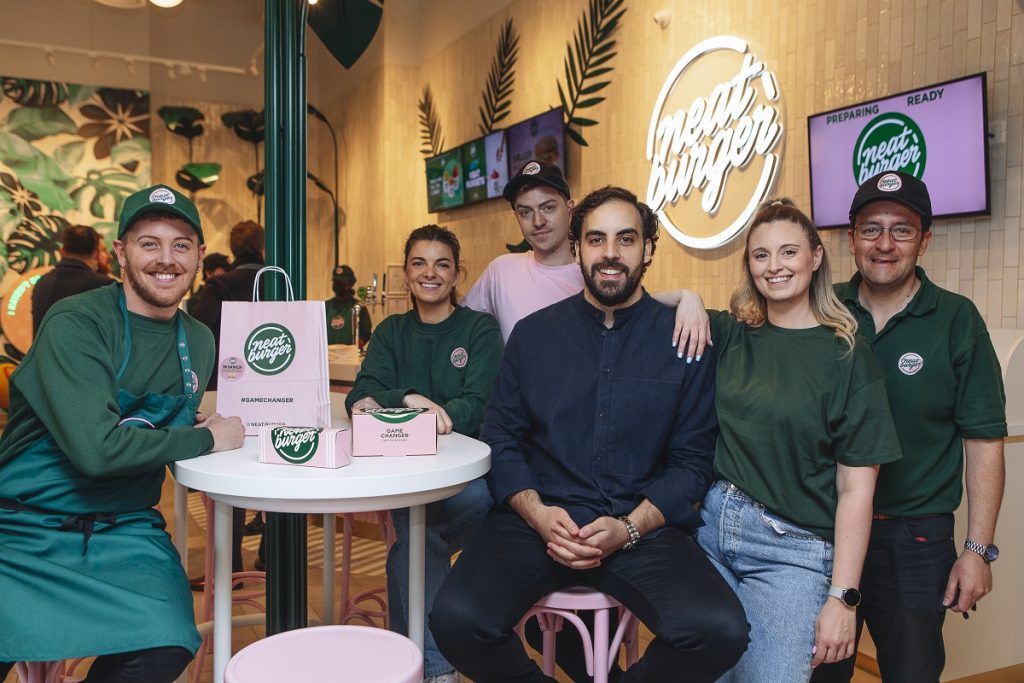 Zack Bishti, co-founder of Neat Burger, with team members inside its new Bishopsgate restaurant
9 February 2022 | Neat Burger – the UK's fastest growing plant-based food group – announces that it opened a new flagship store in Bishopsgate, in the City of London on 31st January. Its new Canary Wharf store opens on 16th February. The launches are changing the face of dining in the City and are part of Neat Burger's ambitious expansion programme which sees it double its UK footprint by the end of 2022.
Lewis Hamilton backed Neat Burger's pioneering approach ensures its menu appeals to plant-based consumers and flexitarians, or meat-eaters who also want to eat vegan or vegetarian food. It has seen soaring demand during the covid pandemic, not least in the Square Mile and Canary Wharf where delivery orders of its most popular dish, the Neat Burger, increased 50% in 2021.
Neat Burger is leading the way in rejuvenating the City post lockdown and addressing demand from City workers who are looking for alternative food options. Eating habits amongst the financial services community is shifting from its heartland of traditional steak and fish restaurants to healthier and more sustainable plant-based food. Currently, 14% of adults in the UK (7.2 million) are following a meat-free diet and a further 8.8 million Brits plan to go meat-free in 2022 (source: Finder.com).
Zack Bishti, Co-Founder and Managing Director of Neat Burger, said: "Last year sales to customers in the City via our delivery cloud kitchens far exceeded expectations so we decided to move forward with two bricks and mortar sites. These new openings reflect our confidence not just in Neat Burger's ambitious expansion programme but also the City and Canary Wharf's ability to bounce back after the pandemic. We have seen such strong demand with 50% more sales of our signature Neat Burger in 2021 compared to the previous year, which highlights the real shift in consumer habits with more and more people identifying as flexitarian."
The Bishopsgate restaurant is Neat Burger's biggest site to date, spanning 2,700 sq ft across a mezzanine floor and will seat 129 covers. It features a giant hot dog installation and a large outdoor drinks terrace where guests can bring dogs and enjoy beers on tap. The Canary Wharf site is located in Cabot Place, a retail and dining hub in the heart of the financial district. Spread out over 1,800 sq ft, it will seat 68 covers and it has a giant milkshake installation and will serve a range of cocktails including Gin Garden, Porn Star Martinis and Aperol Spritz.
About Neat Burger
Established in 2019, Neat Burger is the UK's fastest growing plant-based food group. It will have eight sites in London once Canary Wharf is open and it plans to double its UK footprint by the end of 2022. Investors include Formula One champion, Lewis Hamilton, Anthony Di Iorio, co-founder of cryptocurrency Ethereum, and Wellness Holding, which owns the fitness equipment company Technogym.
In October 2021, Neat Burger completed a $7m funding round led by SoftBank's Rajeev Misra valuing the company at $70m. The funding underpins the group's expansion programme in the UK, Italy, the US and the Middle East covering restaurants, delivery and food R&D.
Neat Burger has rapidly gained a reputation for its pioneering approach ensuring it products appeal to flexitarian and plant-based consumers alike. With a focus on high quality, fresh ingredients with no compromise on taste, Neat Burger is all about accessibility and providing people with an alternative in a fun and engaging environment. Neat Burger's purpose is to offer ethical, sustainable and delicious plant-based food served with passion and style.
Neat Burger has achieved not only a loyal fanbase but industry recognition too, having won for a second year running the UK's Best Vegan Restaurant of the Year at the Deliveroo Restaurant Awards and it was nominated for the 2021 GQ Food & Drink Sustainability Award. Most recently, the brand was awarded PETA's inaugural Company of the Year Award for its game changing approach to a plant-based diet, encouraging people to eat delicious, protein-packed plant-based meals.
As part of its mission to save the planet, one bite at a time, Neat Burger is working with Eden Projects on its large scale reforestation initiatives. In 2021 Neat Burger funded the planting of over one million trees in Madagascar and it is now planting 50,000 mangrove trees in recognition of the brand reaching the same number of Instagram followers. The mangroves are being planted in Haiti, Indonesia, Kenya and Nepal.